Developing trading strategies is not easy. If that were easy, the whole world would make a living from trading income. You can spend days or weeks building one and then forward-test it for a couple of months to see if it's viable. If you are lucky, your algo gets validated, and you can start trading it. Then what's next? Will you trade a single strategy or you rather have a portfolio of diversified algos?
It is very challenging to enter this space as a beginner trader. You want a handful of reliable algos to start but where can you find such strategies?

Option 1: Purchase strategy from professional algo developers
This is the obvious first choice for many traders. There are numerous places to buy algos. You google "trading strategies to buy" and browse the beautiful equity curves on various landing pages. What is the catch so? Various things.
First of all, these strategies are mostly expensive. Generally, these algos are priced somewhere between $90 and $900. The more significant problem is that you don't know anything about the lifecycle of these strategies. How can you know know what time where these strategies developed? Is the creator continuously re-optimizing it to keep the equity curves nice? Is it robust or perhaps overoptimized? These are not easy questions to answer.
Option 2: user forward tested strategies created by tradesq community
Tradesq is a potent strategy builder and robustness tester tool. In my previous article, I showed how you could bring your classic EasyLanguage strategy development to the next level using Smart Backtesting. This time I want to highlight Tradesq's strategy-sharing capabilities amongst users.
As a premium package subscriber, you gain access to hundreds of EasyLanguage strategies created by the Tradesq Community. And here comes the best part. These strategies are continuously forward tested in Tradesq Cloud since the day they got developed.
What does it mean in practice? When a good algo is developed by a community member, the strategy will be automatically picked by Tradesq and continuous forward testing will be performed every week. You can browse Tradesq's forward tested strategies here, even if you're not a subscriber.
Let's say you want algos for Nasdaq (NQ) with at least nine months of forward-tested results with a minimum of 40 out of sample trades.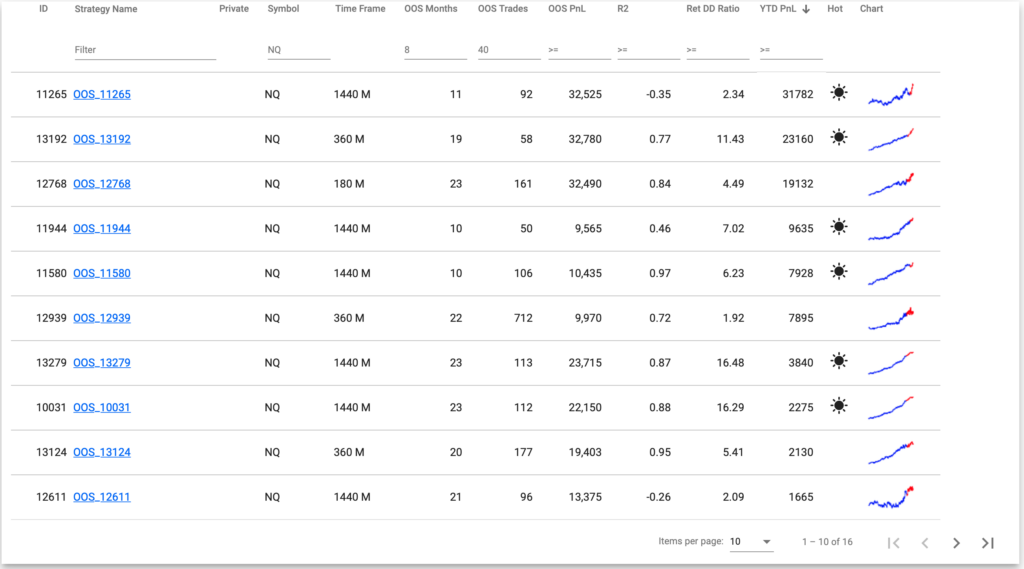 As you see, Tradesq has many of them. You can sort and filter them by different out-of-sample parameters, R2 and return to drawdown ratio. When you click on a strategy a detailed forward testing data-sheet will appear.
Probably the most interesting part of the data-sheet are the Strategy Performance charts.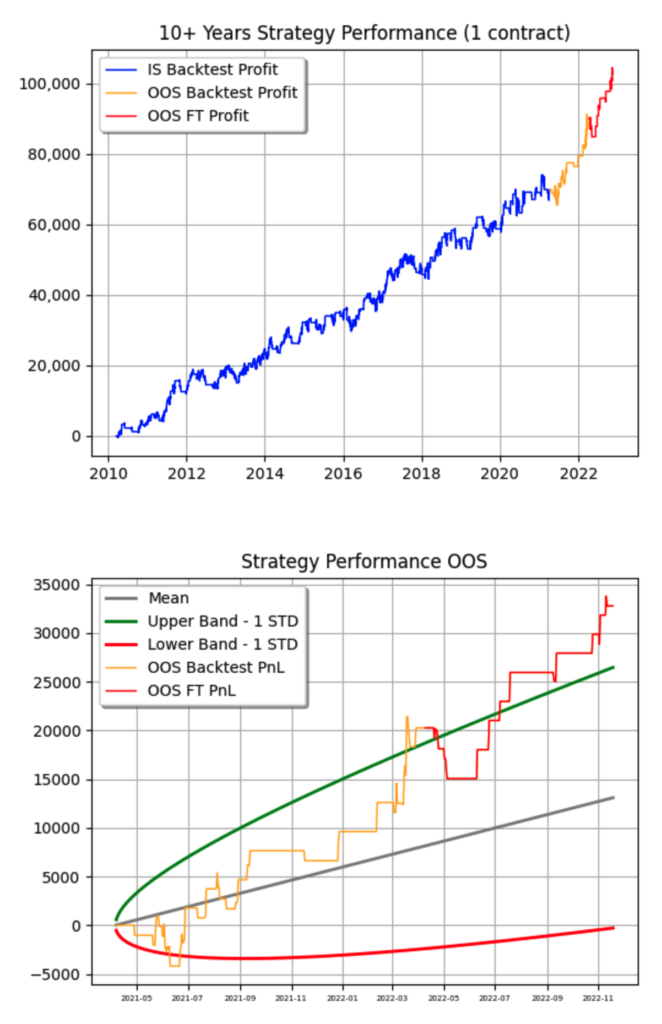 As you see, this strategy was developed in mid-2020. The creator of this algo used a one-year-long out-of-sample period (marked with yellow) for backtesting and optimization.
Since then, this strategy has been forward-tested live. Every week, Tradesq grabs this algo and backtests it repeatedly. Its result is the forward-tested equity curve (red line).
Traders need reliable and robust strategies
Tradesq is a great place to get EasyLanguage-based strategies for a beginner trader to kick off or for an experienced trader to diversify their portfolio. As a Premium package subscriber, you can browse hundreds of robustness-tested strategies with forward testing records.